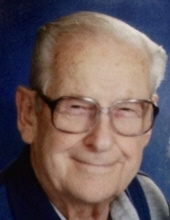 Obituary for Robert Wayne Nelson
Robert Wayne Nelson, 92, of Decatur Illinois, went to be with the Lord on July 24, 2019. He leaves his wife of almost 68 years, Joan (Ludwick) Nelson, his son Robert L. Nelson (Janey), daughters Carol Milligan (John), and Gail Hanson (Robert), 7 grandchildren, and 6 great-grandchildren, and a brother Loren Nelson (Linda), and many wonderful lifelong family and friends.
He was born in Decatur in 1927 to Samuel and Florence (Masters) Nelson and was a long-time resident of Decatur. He attended Cerro Gordo schools, and then served in the Navy during WW2 in the Pacific.
He returned home from the Navy and worked for the Wabash Railroad as a blacksmith, and later worked as a blacksmith, and then as an electrician for Mueller Company for 42 years until he retired. He also had his own electrical business for many years.
He married Joan Ludwick on September 13, 1951 at First United Methodist Church in Decatur, Illinois.
They attended North Fork Church, and later were founding members of Woodland Chapel Presbyterian Church, and later Lampstand Church.
He was a member of the Great Light Masonic Lodge. Bob and Joan volunteered for many years at the Mueller Museum. He donated many hours of service at Woodland Chapel Church as an elder and providing maintenance work.
Bob had a wonderful personality and a great sense of humor that endeared him to many people. He was a loving and dedicated husband, father, son, and friend.
His parents, brother Sam Jr., sister Betty, and brother Leon preceded him in death.
Graveside services will be held at 11:00 a.m. on Saturday August 10th, at Macon County Memorial Park in Harristown Illinois. Dawson & Wikoff West Wood Street Funeral Home is assisting the family.
Messages of condolence may be sent to the family at www.dawson-wikoff.com.
Previous Events
Graveside
Macon County Memorial Park Cemetery
5700 W. Main St. Harristown, Illinois 62522

Route 36 is closed so turn on Wyckles going south, go down to Cantrell Street which is the second road on the road, continue on Cantrell until it ends and turn right on Twin Bridge road until it ends at Main St in Harristown and turn right to the cemetery.